EndNote database on environmental contaminants
We have been delivering a contract for a customer to populate an EndNote database based on searching for relevant publications reporting levels of environmental contaminants in food, environmental matrices and the respective methods of analysis. The database has been designed to meet specific customer requirements and we have also provided our comments as to the scientific quality of the publications.
Food safety application databases.
We have developed several databases for a number of private sector customers to provide a resource for searching the published scientific literature across specified food safety fields. The databases are designed to meet specific customer requirements and can be used for strategic planning or as a marketing tool. Follow links below to see examples in different formats of databases covering food adulteration and authenticity.
Adulteration, Authenticity, Geographical Origin (a2go) Database Example 1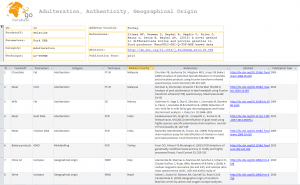 Adulteration, Authenticity, Geographical Origin (a2go) Database Example 2